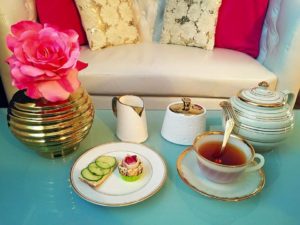 We ask guests to read this page before joining us for tea. This list ensures guests will know what to expect and can have a great time!
Our tearoom is an open-style tea setting. Each party will have their own uniquely decorated and themed area with comfy couches and armchairs to sit. Guests will only have a private area when there are 8 or more people in the party.
There is not a time limit on guests' teatime. We want your experience to feel relaxed and leisurely. Guests may stay as long as they wish (until close).
Please inform anyone in your party with little ones our teatime is 8 and up. We cannot make exceptions because it would not be fair to others who did not get the exception.
Please arrive on time. We understand things happen. If guests are running behind we simply ask for a phone call. Without a phone call the table may be forfeited.
If guests are not greeted immediately upon arrival, we ask to walk up to our register and ring the bell for assistance.
We treat every guest with kindness and respect and we appreciate the same. If staff members or guests mistreat one another they will not be welcomed back. The 'Golden Rule' is a beautiful thing.
Thank you for your understanding. 🙂 This list is to ensure each and every guest has an amazing experience, and to offset any possible misunderstandings before they may occur. If you have any questions about the information listed, please do not hesitate to call or text the tearoom at 505-507-5119.