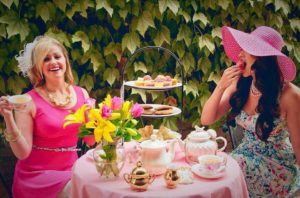 Hours
Tuesday – Sunday
10:3oAM – 4:00PM
***By Appointment only ***
* We offer afternoon tea by reservation only at this time to ensure excellent customer service and no food waste
* We will open after hours and Mondays between 4:00PM – 8:00PM for parties of eight or more
* We accept text messages and calls on our main line between 9 AM and 9 PM everyday

The Ivy Tearoom offers afternoon tea with a modern-day twist. We provide a whimsical and fun atmosphere for our guests to enjoy. The Ivy Tearoom opened May 2015 and continues to offer new and fun ways to enjoy the London tradition.
*Due to the age and structure of the building, we cannot accommodate wheelchairs at this time. We send our sincere apologies for this.
Amanda Thais (owner) is so grateful everyday to share her passion of food and tea with each and every guest.
***Google contest winner is Melody Lopez. ***